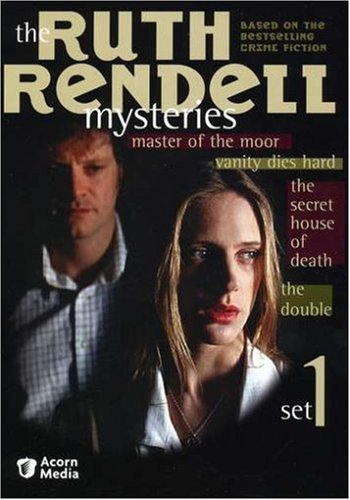 With Ruth Rendell's recent death, I thought I would honor her memory by watching this video collection I picked up years ago. Here's what you get for about $15 on AMAZON:
Master of the Moor—Since boyhood, Stephen Whalby (Colin Firth) has sought solitude on the wild, windy moor. But his taciturn ways and familiarity with the wilderness make him the prime suspect in a series of shocking murders. Approx. 154 min.
Vanity Dies Hard—After her best friend mysteriously disappears, Alice Fielding (Eleanor David) begins to suspect foul play, perhaps even murder. And the killer may have targeted Alice herself as the next victim. Approx. 155 min.
The Secret House of Death—Newly divorced Susan Townsend (Amanda Redman) makes a grisly discovery in her suburban neighborhood and soon becomes involved in a potentially deadly intrigue. Approx. 103 min.
The Double—Two women, identical in appearance but totally different in personality, compete for the affections of one man. Which will lose love and perhaps her life? Approx. 103 min.
And, as if that weren't enough, the DVD SPECIAL FEATURES include a Ruth Rendell biography and cast filmographies! This is a nice package at a great price.