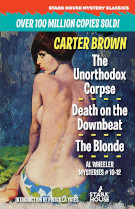 Way back in the early 1960s, I started reading Carter Brown's Al Wheeler series. I enjoyed the wacky plots and Wheeler's skirt-chasing tendencies.
Stark House is reprinting the novels in Al Wheeler series. The latest omnibus volume includes The Unorthodox Corpse, Death on the Downbeat, and The Blonde, the 10th, 11th, and 12th Al Wheeler mysteries. The Unorthodox Corpse was first published in Australia by Horwitz Publications of Australia in 1957 and then revised for the U.S. market and published by Signet Books in 1961. Death on the Downbeat was published by Horwitz in 1958, then revised for the U.S. as The Corpse. Signet published The Corpse in 1958. The Blonde was published by both Horwitz and Signet in 1958. Stark House reprints the original Australian versions in this omnibus edition.
The Unorthodox Corpse was one of the first Al Wheelers I read as a teenager back in the early 1960s. Wheeler gives a speech at an exclusive finishing school with a student body of 50 gorgeous girls. After Wheeler delivers his speech, a magician, The Great Mephisto, steps up to entertain the audience. The lights go out..and when the lights come on, one of the young girls is found with a knife in her back. I liken The Unorthodox Corpse to a screw-ball comedy. Wheeler play fast and loose to nail the killer.
Death on the Downbeat opens with Wheeler on a date at a jazz club with Annabelle Jackson, the constant object of his desire. But, a member of the audience takes the stage…and catches a bullet. The date turns into a murder investigation.
The Blonde features the most convoluted of these three mysteries. Wheeler is sent to protect two women who are getting death threats. And, of course, one of them is blown up with a bomb! Wheeler deals with TV people, mobsters, and constant deception before he finally reveal the cunning plot.
If you're looking for humor, action, and wackiness you'll find it in abundance in this wonderful Stark House omnibus! GRADE: A
You can read my reviews of the other Al Wheeler volumes here, here, and here.