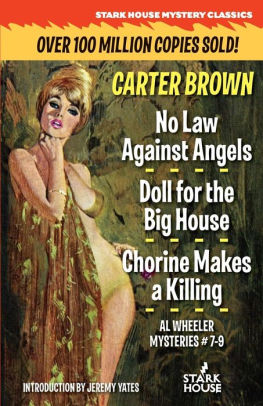 This is the third omnibus edition of Al Wheeler mysteries, Numbers 7-9, that Stark House has published. Like the previous volumes (you can read my reviews here and here), these novels come from the mid-1950s when Alan Geoffrey Yates (aka, "carter brown") was churning out mystery novels for his Australian publisher, Horwitz, on a monthly basis. A couple years later, the Al Wheeler books migrated to a U.S. publisher.
The seventh Al Wheeler mystery, No Law Against Angels(1957; revised U.S. edition, The Body, Signet 1958), involves Wheeler in the murders of two young girls with snake tattoos. The snake tattoos are required by the largest call-girl ring on the West Coast. Wheeler confronts a millionaire who wants to build a casino and almost dies as a result of the encounter. Later, a murderous meeting in a funeral home brings Wheeler to the brink of death again. No Law Against Angels delivers more than the average quota of dead bodies and plot surprises for a Carter Brown novel. GRADE: A-
Doll For the Big House (1957; revised U.S. edition, The Bombshell, Signet 1960), starts out with Al Wheeler searching for a missing rich girl and leading to a number of deaths as Al Wheeler works outside the Police bureaucracy to expose a massive corruption scheme. GRADE: B+
Chorine Makes a Killing (1957) features a change of pace when Al Wheeler leaves the Police Department to work for the law firm of Hammond, Irvine, and Snooks. Wheeler has to clear one of their clients from a murder charge. In exchange, Wheeler will get a new sports car. With his usual unorthodox tactics, Al Wheeler peels back all the lies and deceptions to get to the root of the crime. GRADE: B
These early Al Wheeler mysteries crackle with humor and violence and clever plots. And, like potato chips, you just can't stop at one!