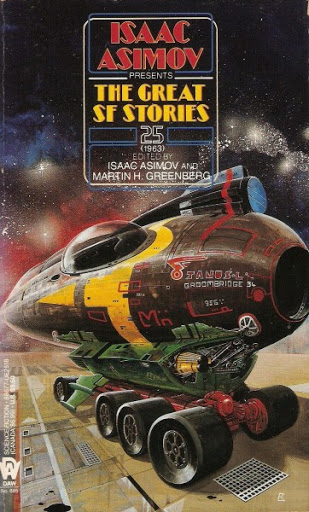 After over two years of posting about The Great SF Stories series, I wrap things up today. My thanks to James Wallace Harris who inspired me to attempt this rereading back in 2018 of the 25 volumes by Asimov and Greenberg. So many great stories, so much knowledge shared by Asimov and Greenberg in their introductions to these stories!
I read John Brunner's "The Totally Rich" back in 1963 and it blew my mind. Even today, with our Economy in shambles, the concept of the Totally Rich still is valid. With his novels, The Jagged Orbit and Stand on Zanzibar Brunner became one of my favorite SF writers. The most famous story in this anthology is Roger Zelazny's classic "A Rose for Ecclesiastes." Philip K. Dick's "If There Were No Benny Cemoli" still bends my mind.
The Great SF Stories series ends on a sad note. Martin H. Greenberg says goodbye to his friend and anthology collaborator, Isaac Asimov, who died in April 1992 just few months before this anthology was published.
You'll find a list of links to all my reviews of The Great SF Stories series below the Table of Contents. I hope you've enjoyed my reviews as much as I enjoyed writing them. GRADE: A
TABLE OF CONTENTS:
Introduction by Martin H. Greenberg – 9
REMEMBRANCE OF ISAAC ASIMOV – 382
THE GREAT SF STORIES SERIES:
The Great SF Stories #1 (1939) : http://georgekelley.org/fridays-forgotten-books/
The Great SF Stories #2 (1940): http://georgekelley.org/fridays-forgotten-books-499-the-great-sf-stories-2-1940-edited-by-isaac-asimov-greenberg/
The Great SF Stories #3 (1941): http://georgekelley.org/fridays-forgotten-books-504-the-great-sf-stories-3-1941-edited-by-isaac-asimov-martin-h-greenberg/
The Great SF Stories #4 (1942): http://georgekelley.org/fridays-forgotten-books-506-the-great-sf-stories-4-1942-edited-by-isaac-asimov-martin-h-greenberg/
The Great SF Stories #5 (1943): http://georgekelley.org/fridays-forgotten-books-513-the-great-sf-stories-5-edited-by-isaac-asimov-martin-h-greenberg/
The Great SF Stories #6 (1944): http://georgekelley.org/fridays-forgotten-books-517/
The Great SF Stories #7 (1945): http://georgekelley.org/fridays-forgotten-books-520-the-great-sf-stories-7-edited-by-isaac-asimov-martin-h-greenberg/
The Great SF Stories #8 (1946): http://georgekelley.org/fridays-forgotten-books-513-the-great-science-fiction-series-edited-by-frederik-pohl/
The Great SF Stories #9 (1947): http://georgekelley.org/fridays-forgotten-books-529-the-great-sf-stories-9-1948-edited-by-isaac-asimov-and-martin-h-greenberg/
The Great SF Stories #10 (1948): http://georgekelley.org/fridays-forgotten-books-535-the-great-sf-stories-10-edited-by-isaac-asimov-and-martin-h-greenberg/
The Great SF Stories #11 (1949): http://georgekelley.org/fridays-forgotten-books-538-the-great-sf-stories-11-1949-edited-by-isaac-asimov-martin-h-greenberg/
The Great SF Stories #12 (1950): http://georgekelley.org/fridays-forgotten-books-542-the-great-sf-stories-12-1950-edited-by-isaac-asimov-martin-h-greenberg/
The Great SF Stories #13 (1951): http://georgekelley.org/fridays-forgotten-books-546/
The Great SF Stories #14 (1952): http://georgekelley.org/fridays-forgotten-books-551-the-great-sf-stories-14-1952-edited-by-isaac-asimov-martin-h-greenberg/
The Great SF Stories #15 (1953): http://georgekelley.org/fridays-forgotten-books-553/
The Great SF Stories #16 (1954): http://georgekelley.org/fridays-forgotten-books-567-the-great-sf-stories-16-1955-edited-by-isaac-asimov-martin-h-greenberg/
The Great SF Stories #17 (1955): http://georgekelley.org/fridays-forgotten-books-571-the-great-sf-stories-17-1955-edited-by-isaac-asimov-martin-h-greenberg/
The Great SF Stories #18 (1956): http://georgekelley.org/fridays-forgotten-books-576-the-great-sf-stories-18-1956-edited-by-isaac-asimov-martin-h-greenberg/
The Great SF Stories #19 (1957): http://georgekelley.org/fridays-forgotten-books-578-the-great-sf-stories-19-1957-edited-by-isaac-asimov-martin-h-greenberg/
The Great SF Stories #20 (1958): http://georgekelley.org/fridays-forgotten-books-583-the-great-sf-stories-20-1958-edited-by-isaac-asimov-martin-h-greenberg/
The Great SF Stories #21 (1959): http://georgekelley.org/forgotten-books-588-the-great-sf-stories-21-1959-edited-by-isaac-asimov-martin-h-greenberg/
The Great SF Stories #22 (1960): http://georgekelley.org/fridays-forgotten-books-591-the-great-sf-stories-22-1960-edited-by-isaac-asimov-martin-h-greenberg/
The Great SF Stories #23 (1961): http://georgekelley.org/fridays-forgotten-books-the-great-sf-stories-23-1961-edited-by-isaac-asimov-martin-h-greenberg/
The Great SF Stories #24 (1962): http://georgekelley.org/fridays-forgotten-books-602-the-great-sf-stories-24-1962-edited-by-isaac-asimov-martin-h-greenberg/
The Great SF Stories #25 (1963): http://georgekelley.org/fridays-forgotten-books-605/
The Great SF Stories #26 (1964): http://georgekelley.org/forgotten-books-rise-of-the-terran-empire-by-poul-anderson/